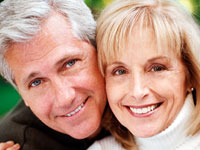 For the bright and beautiful smile you've always dreamed of, dental implants from Marietta implants dentist Dr. Bakke may be the answer. Soon you'll be able to eat, speak and laugh with freedom and confidence again - without the hassle of wearing dentures.
Over time teeth can be destroyed by decay, disease, injury, or grinding. A modern tooth implant can provide a permanent solution to these unsightly and uncomfortable problems, but it's not necessarily the right choice for everyone.
You must have good jawbone ridges and healthy oral tissues because the implant is actually inserted into your jaw. A chemical and mechanical bond is formed as the jawbone actually grows into the implant.
Don't let your worries about the cost of dental implants stop you from considering this beautiful, permanent, natural-looking solution to your missing, damaged or diseased teeth.
Our friendly staff at Implant & Family Dentistry can show you a range of affordable financial options to fit your budget. We also provide dentures, cosmetic dentistry and wisdom teeth.
For more details on the benefits of implant dentistry just call Implant & Family Dentistry at (770) 973-4214 or stop in to arrange for a consultation.